Company Profile
Sinocham (HK) Enterprises Limited is the Hong Kong and Macau sole distributor of MITASU, 76®, Phillips 66®, Kendall® and ENOC lubricants. These brands are under the companies as follows:

MITASU OIL СORPORATION is a leading developer and manufacturer of premium quality engine oils and additives. Understanding the needs of our customers, complying with and exceeding the strictest industry standards* for Quality and Innovation has always been the key component of our corporate philosophy and our long term success.
* MITASU engine oils comply with and well exceed the requirements of global car manufacturers such as TOYOTA, NISSAN, MAZDA, HONDA, MERCEDES-BENZ, VW, VOLVO, PORSCHE, etc...
** Approved by API, ACEA, JASO
MITASU OIL CORPORATION permanent drive for perfection combined with great passion for quality, in-depth scientific knowledge and many decades of research and development experience has allowed our R&D team to create a unique product formula that delivers performance beyond any expectations.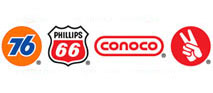 In 2002, Phillips Petroleum Company merged with Conoco Inc. to become ConocoPhillips Company, the fourth largest U.S. lubricants supplier. In 2009, Money Magazine ranked ConocoPhillips® as no.4 in US Fortune 500, no.7 in Global 500.
Pioneering leaders and groundbreaking product lines have helped ConocoPhillips Lubricants evolve into the fourth largest lubricants supplier in the U.S. Four premier brands - 76®, Phillips 66®, Conoco® and Kendall® - reach across every key lubricants market, including automotive, trucking, agriculture, aviation, power generation, mining and construction.
Known for high-quality base oils and sophisticated formulations, ConocoPhillips® Lubricants also offers proprietary research and development facilities, as well as a comprehensive global distribution network.


ENOC, a wholly-owned Dubai Government company, is a leading force for economic diversification within the UAE and a global energy group, operating 30 active subsidiaries and joint ventures – many forged with key international blue chip organizations.

ENOC is a leader in the field of aviation fuel, lubricants and chemicals with international operations and offices as far a field as Singapore and London. The division develops and distributes product locally and to a global market and also operates trading and bunkering services.

ENOC's vision of being the 'Energy Partner of Choice' means it is actively involved in sponsorship, supporting the community it serves, and is a leader in environmental protection and health and safety in all its operations.