Play MATTA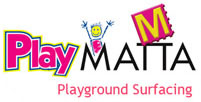 ABOUT US

Play Matta™ Limited is a New Zealand company that design, manufactures and markets to the world the Play Matta™ range of playground safety surfacing. Play Matta™ represents the new generation of high performing safety surfacing designed to enhance the creative and inviting playgrounds of today.


COLOURS

Play Matta™ is manufactured in a wide variety of colours that make it easy to design interesting and inviting play spaces, adding long lasting play value to your playground.
There are many layout possibilities using the Play Matta™ colour palette. Create an original surface design with your own combination of colours or base your playground on one of the existing Play Matta™ templates.


COMPLIANCE

Disabled Access

People who have difficulty walking or maintaining balance or who use mobility devices – like children learning to walk or with disabilities – are particularly sensitive to slipping and tripping hazards. For such people, a rigid, stable and regular surface is best for walking, playing and propelling wheelchairs. Play Matta™ Surfacing Systems have been tested and comply with the demanding ASTM and ADA Accessibility Standards out of the United States.
Slip Resistance

The New Zealand Standards aim to ensure that playground surfaces are not too slick, resulting in slips and falls. Play Matta™ surfacing complies with all applicable New Zealand, Australian, European and US Standards relating to slip resistance. As well as this, Play Matta™ was also deliberately engineered with a coefficient of friction that is not excessive, making the surface too 'grippy' – a common cause of long bone fractures in young children.
Fire Resistance

Play Matta™ has been successfully tested using the method recommended in the Australian Standard regarding ease of ignition, and with the more stringent ASTM Standard (in force in the USA). In one informal test a school official attempted to set fire to a Play Matta™ playground with a gas welder. The surface was scorched but failed to ignite.