Kendall®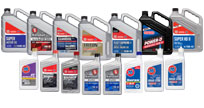 With more than 125 years of experience to draw upon, Kendall® Motor Oil has led the industry with a number of significant firsts.The Kendall® Refining Company was founded in 1881 in Bradford, Pennsylvania, with the goal of refining local Pennsylvania Grade Crude Oil into kerosene, lubricants and greases.
In 1928, Kendall® introduced the first oil designated for winter use as well as the first 2,000-mile motor oil (unprecedented at a time when the standard was 500-1,000 miles), and later developed the first pre-packaged, factory-sealed, one-quart oil can.
Part of the ConocoPhillips family of lubricants, Kendall® Motor Oil enjoys a dramatic heritage and remains innovative spirit.
For more information, please visit:
http://www.phillips66lubricants.com.hk
http://www.phillips66lubricants.com